Billabong Mens 403 Absolute Chest Zip Full GBS Wetsuit (Black Fade)
£209.99
(£259.99)
You save
19%
In Stock
SKU: ABYW100193BCFS
Free UK Shipping Over £50

Hassle Free Returns - Shopping Online Should Be A Breeze

Price Match Promise

Lining
Graphene combined with Silicon Stretch

Seams
Machine Applied Super-flex neo tape, GBS
Neoprene type
PRO STRETCH! 100% Recycled

What we love
The perfect mix of value and performance
Description
The Fluffy Stuff...
4/3mm Absolute - Chest Zip Wetsuit for Men
Specification
The Nitty Gritty...
- Product Type: Absolute
- Exterior Fabric Type: PRO STRETCH softer, lighter, 100% recycled
- Neoprene Foam Type: SMART Foam superior thermal retention, partially recycled
- Interior Fabric Type: Graphene combined with Silicon Stretch
- Body Type: Long Sleeve Full suit
- Thickness: 403mm
- Entry System: Chest Zip
- Exterior Seam Detail: GBS
- Internal Seam Detail: 100% taped internal seams
- Fabric Content: 80% Neoprene, 10% Nylon, 10% Polyester
Our Verdict
What do we think?
We love Billabongs PROSTRETCH! technology in their neoprene, it really gives premium levels of flexability when you need it. A great suit for swimming, surfing and many other watersports. To make it even better, this exterior fabric is 100% recycled.
Warranty
The brands guarentee
Billabong wetsuits comes with a limited 3 year warranty on stitching, 12 months on any materials, workmanship and liquid welded seams from the date of purchase.
Shipping and Returns
Delivery Information...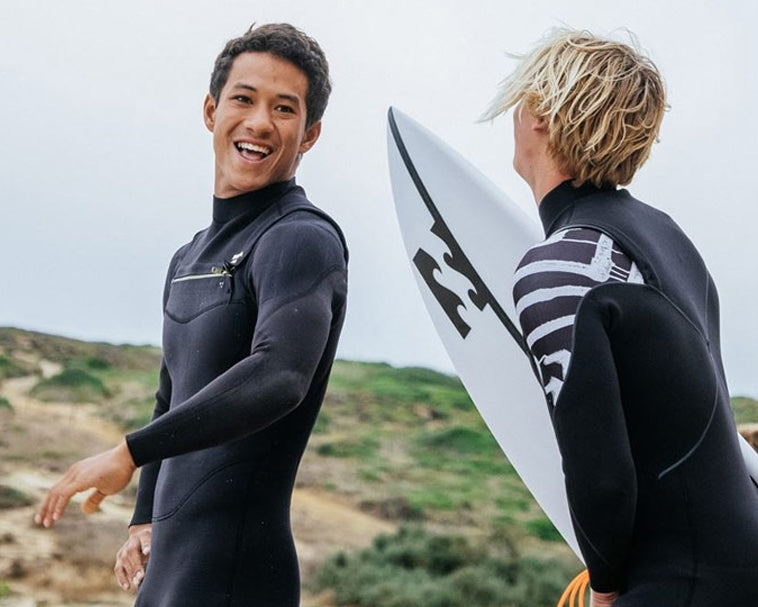 4/3mm Absolute - Chest Zip Wetsuit for Men