Dakine Mens Quantum Back Zip S/S F/Suit 2/2 F\L (Black / Grey)
Out of stock
SKU: DK22M22QSSBZFLXS
Free UK Shipping Over £50

Hassle Free Returns - Shopping Online Should Be A Breeze

Price Match Promise


Seams
Flatlock, Critical Tape / Taped seat panel seam
Neoprene type
Limestone based S type in upper panels

What we love
Dakines budget friendly performance wetsuit for everyday use
Description
The Fluffy Stuff...
Game changing approach.

The Quantum will change your expectation of what an affordable wetsuit can be.

The Quantum is not entry level, budget or cheap. This range embodies our game changing approach to performance wetsuits; performance and warmth combined with next level durability at an affordable price.

The build quality on Quantum matches our standards set throughout the range - all seams are 3D stitched and taped or critically taped for maximum security. All panels use DK limestone neoprene and our specially developed linings - stretch zones feature our top end S type neoprene lined with FLX lining. Internally THERMO is used in all upper body panels where wind chill is a factor. The body makes use of NPM, our fl ex lining with very high surface resistance and our high modulus D foam neoprene. Using our super high end Apex Fit pattern for perfect fi t and extreme freedom of movement and available in our 'Easy In' chest zip entry.

The Quantum will change your expectation of a what an affordable wetsuit can be.

SIZE & FIT

Model wears: MS
Model's height/weight: 170cm / 68kgs
Specification
The Nitty Gritty...
- FLX_THERMO lining
- Flatlocked
- Wind resistant meshskin chest and back
- Adjustable lycra bound collar
- YYK zip with metal slider
- 80% Neoprene, 15% Nylon, 5% Polyester
Our Verdict
What do we think?
Dakines Quantum suit is their most affordable suit which is still packed with premium features. The Quantum is the perfect way of getting into Dakine suit without the price tag of a Cyclone or Mission. This is one of our most popular suits for its durability and flexability, all packed into a suit with a relative cost.
Warranty
The brands guarentee
Dakine Flatlocked Wetsuits and GBS wetsuits: Limited 1-year warranty from date of purchase on workmanship and materials - Zips and Liquid seal excluded.
Shipping and Returns
Delivery Information...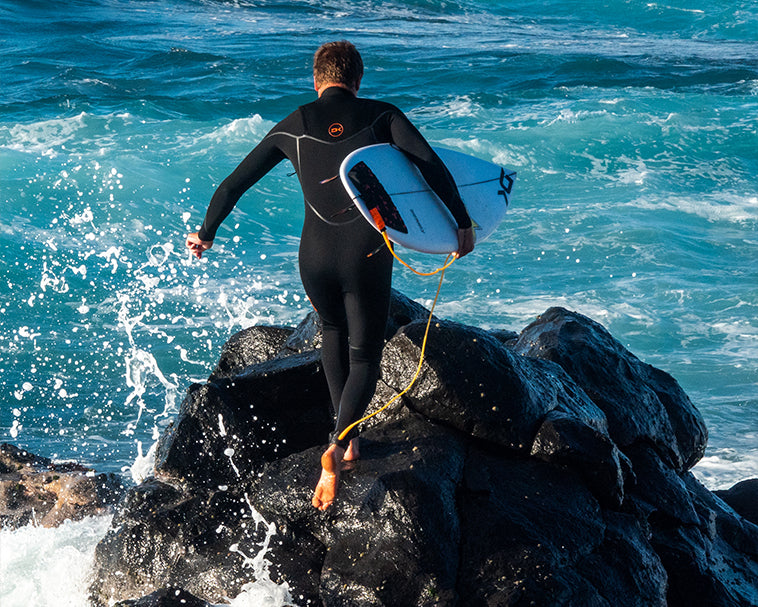 Game changing approach.

The Quantum will change your expectation of what an affordable wetsuit can be.

The Quantum is not entry level, budget or cheap. This range embodies our game changing approach to performance wetsuits; performance and warmth combined with next level durability at an affordable price.

The build quality on Quantum matches our standards set throughout the range - all seams are 3D stitched and taped or critically taped for maximum security. All panels use DK limestone neoprene and our specially developed linings - stretch zones feature our top end S type neoprene lined with FLX lining. Internally THERMO is used in all upper body panels where wind chill is a factor. The body makes use of NPM, our fl ex lining with very high surface resistance and our high modulus D foam neoprene. Using our super high end Apex Fit pattern for perfect fi t and extreme freedom of movement and available in our 'Easy In' chest zip entry.

The Quantum will change your expectation of a what an affordable wetsuit can be.

SIZE & FIT

Model wears: MS
Model's height/weight: 170cm / 68kgs