Tackling climate change 9 trees at a time
doing our bit
9 trees is the number required to balance the average UK citizen's carbon consumption each year. Planting just 9 trees yearly to offset a lifetime's carbon - it's simple, it's effective and it's remarkably low cost. There is no better way to invest in a low-carbon future than to plant and maintain sustainable woodland here in the UK. We are proud to be a partner of 9Trees, working towards a lower carbon world. As an organisation we were looking for ways to support climate change within our local community. 9Trees work hand in glove with community groups, local landowners and local authorities on our behalf to make sure that we can serve our community of the future in the very best way possible.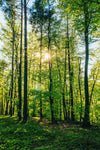 Protect our oceans from the palm of your hand
So what's the deal?
We plant your trees in new woodland in England or Wales.
We connect you with local biodiversity through our local network updates.
We conserve and manage your woodland as it grows.
We plant another 9 Trees for you the following year!
Where do we plant? See our projects page.
Why carbon balancing?
Carbon balancing compensates for the carbon emissions an individual creates each year.
Reducing your carbon emissions should always be considered first.
A zero carbon lifestyle isn't *yet* within reach for most of us, as we live in a modern world.
This is why we offer carbon balancing.
Understanding your emissions is a good first step.
We recommend calculating your own carbon footprint, which you can do with the calculator below.